FCHRE net recap
Thanks to all who checked in. 13. I may have got the First call sign on list incorrect.
I appreciate the support of the Carolina 440 net. If you wish to help out and join the organization check out https://www.carolina440.net/membership.html.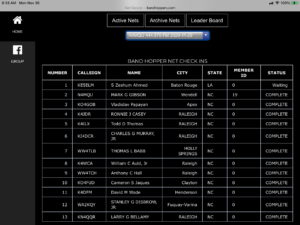 December 5 testing session
We reached our applicant limit (6) for our first session so I added a second session and have 4 registered already. We are getting applicants all the way from Fort Bragg to Burlington. If you check ARRL website to find a testing session we are the only ones offering testing in the area. I say that to issue an appeal. If you are an Extra class operator in the outlying areas and are interested in starting your own VE team please contact me. I will put you in touch with the right person. You are in for a very rewarding experience talking to unlicensed people and seeing them get their license.
DSTAR Net 11/30/2020
North Carolina Amateur Radio Operators Facebook group https://www.facebook.com/groups/NCHamRadioOperators/?ref=share
Has announced a simplex D-STAR simplex test net tonight at 7:00PM 145.670 MHz D-STAR. KI4CFS is in Raleigh but N4AED and N4MQU is in Wendell and will be checking in. Check his YouTube out. https://youtu.be/EBehBOsH3x8
73's
Mark Gibson(N4MQU)