Weekly net
Please join us 7:00PM Sunday for the Five County Ham Radio Enthusiasts net on the Carolina 440 network. You will be able to find your closest repeater here If you are not close to the repeater or are unlicensed or you would like to just listen on line try here. Tony Hall (WW4TCH) is our regular net control station. Thanks to the Carolina 440 net for the use of the repeater. If you would like to help out or join the group click on the link.Tell them FCHRE sent you.
JARS Picnic 5/15/2021
The Johnston Amateur Radio Society is holding a Multi Club Picnic May 15th, 2021 at the Farm of Todd Lee(N4USS). The address is 298 Allen's Crossroads, Four Oaks, N.C. 27524.
The picnic is from 11am – 3 pm. Please let us know you are attending so we may be able to provide everyone with hotdogs and hamburgers. Sign up at JARS.NET.See the images from last year's field day at the same site on N4MQU's website.
Weekday testing availability
Thursday May 20 we will have a scheduled exam session. The FCVET decided to have add a weekday session in May and June. Please pass this onto all your friends interested in taking their exam. Please register here
FCHRE ham badges available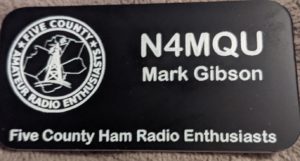 N4AED of The Ham Badgers announced the availability of ham badges with Five County Ham Radio Enthusiasts Logo and your call sign on them for purchase. They can be ordered here.

Thanks for reading.
N4MQU